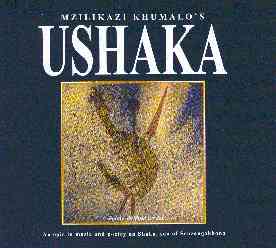 Ushaka KaSenzangakhona: An epic in music and poetry on Shaka, son of Senzangakhona
National Symphony Orchestra of SABC Robert Maxym, Conductor
Mzilikazi Khumalo, Choral Director
Sony CDCSL 8047 (1997)
The Narrator is Prof. Themba Msimang, a Professor of African Languages at the University of South Africa. He writes in the liner notes that he and Khumalo found they shared an interest in the history of King Shaka, founder of the Zulu Empire. The two became friends, and ultimately Msimang wrote an epic narrative on King Shaka from the Zulu perspective, which Khumalo set to music.
The four parts of the epic have descriptive titles:
PART 1 - The circumstances surrounding the birth of Shaka.
PART 2 - His youth and the difficulties he endured as a result of his rejection by his father's court. Shaka eventually overpowers his enemies and takes the Zulu throne.
PART 3 - His reign which is likened to thunder. His victories are recounted and the section ends with traditional praises dedicated to King Shaka.
PART 4 - The death of King Shaka.