HAMBA KAHLE (Fare thee well) (1950)
Composed in two sections between 1943 and 1950, Hamba Kahle has become an unaccredited classic South African choral composition, regularly performed by choirs around the country. It was originally composed for a close friend who was a colleague of the composer at Lovedale College in the Eastern Cape, who had died prematurely.
---
MAKHALIPHILE (Dauntless One!) (1953) - Dedication "to Father Trevor Huddleston C.R., in appreciation of his unselfish services to the cause of humanity."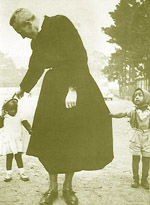 Todd Matshikiza was steeped in Christian tradition from his childhood. Yet in his independent and creative life, he accepted nothing as given, and was therefore critical of both religious and political orthodoxies. At the same time, his sentiments were deeply religious and true to the pain and joy of humanity. This was expressed in everything he wrote.

That is why he understood, and was appreciated and loved by, the likes of Trevor Huddleston, Nelson Mandela, and Oliver Tambo. He recognized their passion for the truth, and responded with masterpieces like Makhaliphile and Uxolo! He "signed up" without taking the compromising step of signing up, whether with the church or with the political process in its nationalist or Africanist form. Though Matshikiza was a non-practicing Christian in his adult years, nevertheless one of his greatest works was inspired by a man of the cloth: his friend, Father Trevor Huddleston.

Matshikiza saw all who worked toward black liberation as part of the deeper dream of the restoration of Africa's pride and self-confidence. The ultimate accolade to Trevor Huddleston is that he should fall into this category. Makhliphile was written in 1953 as a tribute to the great cleric, facing expulsion from South Africa in 1954, a farewell to a great Christian man of Africa, who was not an African, from an African who was no longer a Christian!
Khaliphile!
---
UXOLO! (Peace!)
Uxolo! was commissioned for the Johannesburg Festival of 1956, commemorating the 70th anniversary of the founding of the City of Gold. Todd Matshikiza was one of a number of composers, local and international, invited to contribute to this celebration. The event was held in the Johannesburg City Hall on 13th October of that year. That was the first and, until 2001, the last occasion on which this major work was performed--with the choir accompanied by a brass band, rather than by a symphony orchestra, as would have been more appropriate.

In its various sections, the work deals with different aspects of the aura of Johannesburg: "The Gold Rush," "The Birth of a City," "Greed and Avarice in the Golden City," "Racial Disharmony," and "A Prayer for Unity and Peace." These remain eminently relevant topics in the modern day, providing through this stirring composition a reflection on South Africa's history, and an optimistic projection towards its future.
---